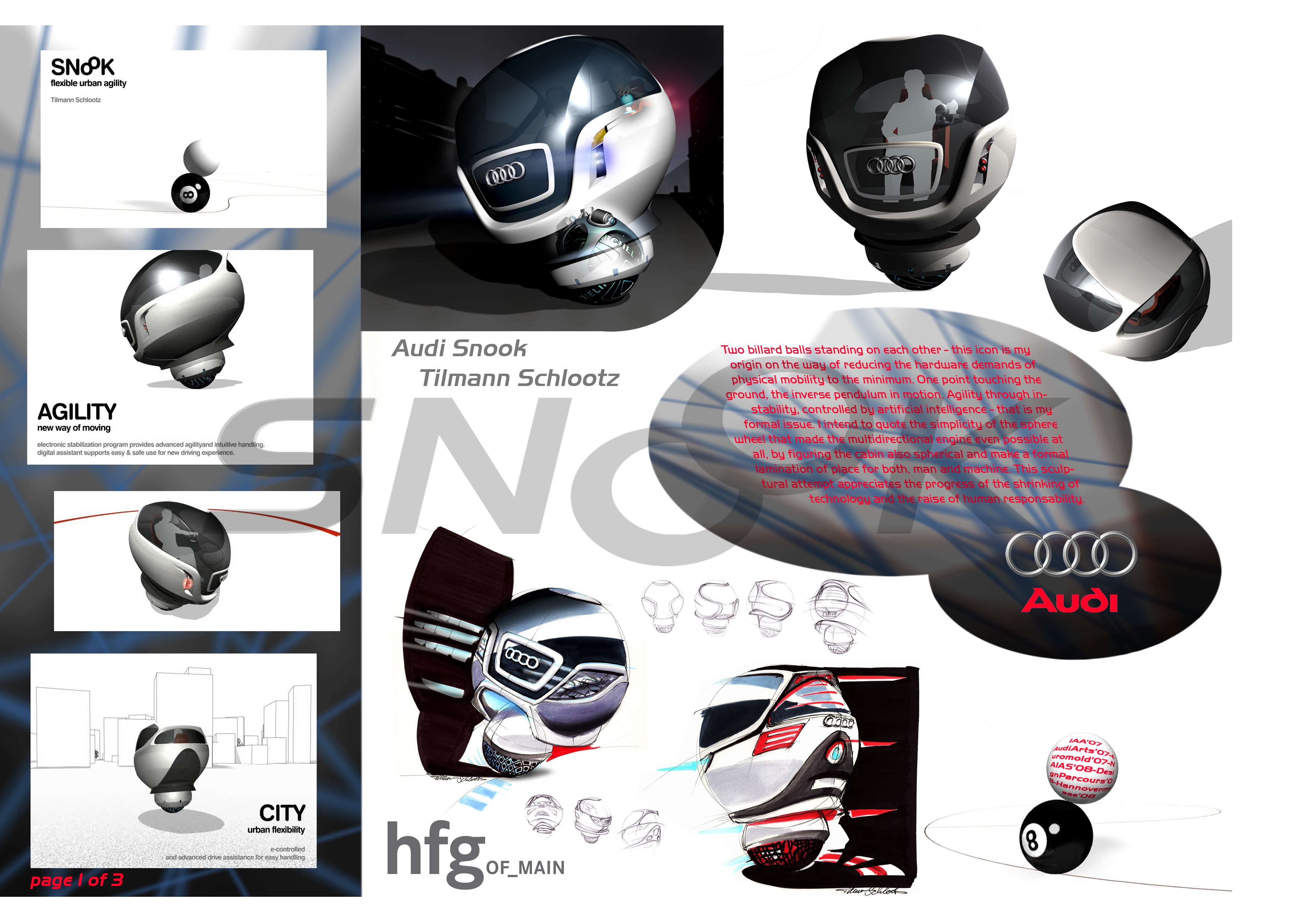 multiple award winning future city car concept Audi Snook designed by Tilmann Schlootz
Design Agentur Frankfurt, Webdesigner Frankfurt. Frankfurt Webdesigner, Corporate Design Frankfurt. Frankfurt Corporate Design Corporate Identity CI CD UX UI.
Automotive Design Frankfurt, Frankfurt Autommotive Design. Design Agency Frankfurt
Frankfurt Design Agency. Homepage Design Frankfurt, Frankfurt Homepage Design.
Visual Futurist Futurismus Zukunftsforschung. Trendforschung Trendanalyse Szenarioarbeit Social Forecast Technological Forecast Technology Forecast. Futurism Trendlabor Futurelab Trendlab.
Zielgruppen-Analyse Zielgruppen-orientierte Marketing-Strategie.
Marktanalyse Wettbewerbsanalyse. Trendreport Fachartikel Trendfarben Pantone.
Layout Abstract Entwurf Entwürke Konzept Phase. Logo-Entwicklung Marken-Entwicklung
Evolution Revolution. Badesalz Kostic.Feldmann Petra Roth Frankfurt.
Red Dot Design Award Best of the Best. Designpreis der Bundesrepublik Deutschland German Design Prize. IF Design Award. Industrie Forum Design Award Konzept Concept. Michelin Challenge Design Design Parcours München. Gwangju Design Biennale South Korea Südkorea
Integrativ Adaptiv Denotation Konnotation.
WordPress typo3 3D Drucken 3D Animation. 3D Modellieren 3D Software Rhinoceros. Alias Maya Solidworks Unigraphics.
Adobe Photoshop Lightroom Retusche Retouch Freistellen. InDesign Keynote Illustrator Vektorgrafik. vektorisieren How-To Tutorial Youtube Video
Kochen. Abnehmen Diät Liebeskummer Rezepte Haustiere. Hunde Katzen Pferde Fische Aquarium. Fußball Autos ÖPNV Bahn Bahnhof. Greta Thunberg Donald Trump Angela Merkel. IAA Brexit Banken Finanz-Dienstleister. Kredit-Institut mittelständisches Unternehmen Firma. Undernehmens-Auftritt B2B B2C BtoB BtoC.
Visual Marketing Senior Marketing Manager, Marketing Strategie Beratung. Berater Consultant
Frankfurt Male Model. Frankfurt Single Mann Schauspieler Actor Moderator. Moderation
Frankfurter Original. Hipster Frankfurter Bub, Bembel Apfelwein. Äppler, Eppler, Äpfelwein, Epfelwein. Alt-Sachsenhausen, Commerzbank-Arena, Eintracht Frankfurt Nur die SGE. Adlerfront Messe Frankfurt Messebau. Messestand-Design DFB-Pokal. Alte Oper.
Analytik google analytics google search console seo tools onpage-seo. offpage-seo linkbuilding
blogsharing fremdbloggen bloggen Blog. Vlog Youtuber Influencer-Marketing Socialmedia-Kampagne Facebook.
Twitter Instagram Pinterest Linkedin Xing dasauge. Radfahren in Frankfurt ÖPNV Fixie Rennrad MTB Stellenangebot. Stellenausschreibung Jobangebot Joboffer Festanstellung Design Bereich. Abteilung Studio Atelier Werkstatt Mietwohnung. Eigentumswohnung.